At the beginning of the year we set out to prove that Render's Digital Network Construction approach had a fighting chance of redefining how fiber networks are deployed at scale. As the year comes to a close I couldn't be more encouraged by the feedback and impact our technology and people are having across this rapidly evolving industry.
I am often asked what it is that Render actually does - our singular focus is best summarized by our mission:


Continuously innovate and evolve technology to build networks better

2019 has been about creating awareness around a new way of delivering fiber, and proving to ourselves and the industry across the United States that our technology is the most efficient means of deploying networks.
Our collective highlights are summarized in Render's 2019 Year In Review: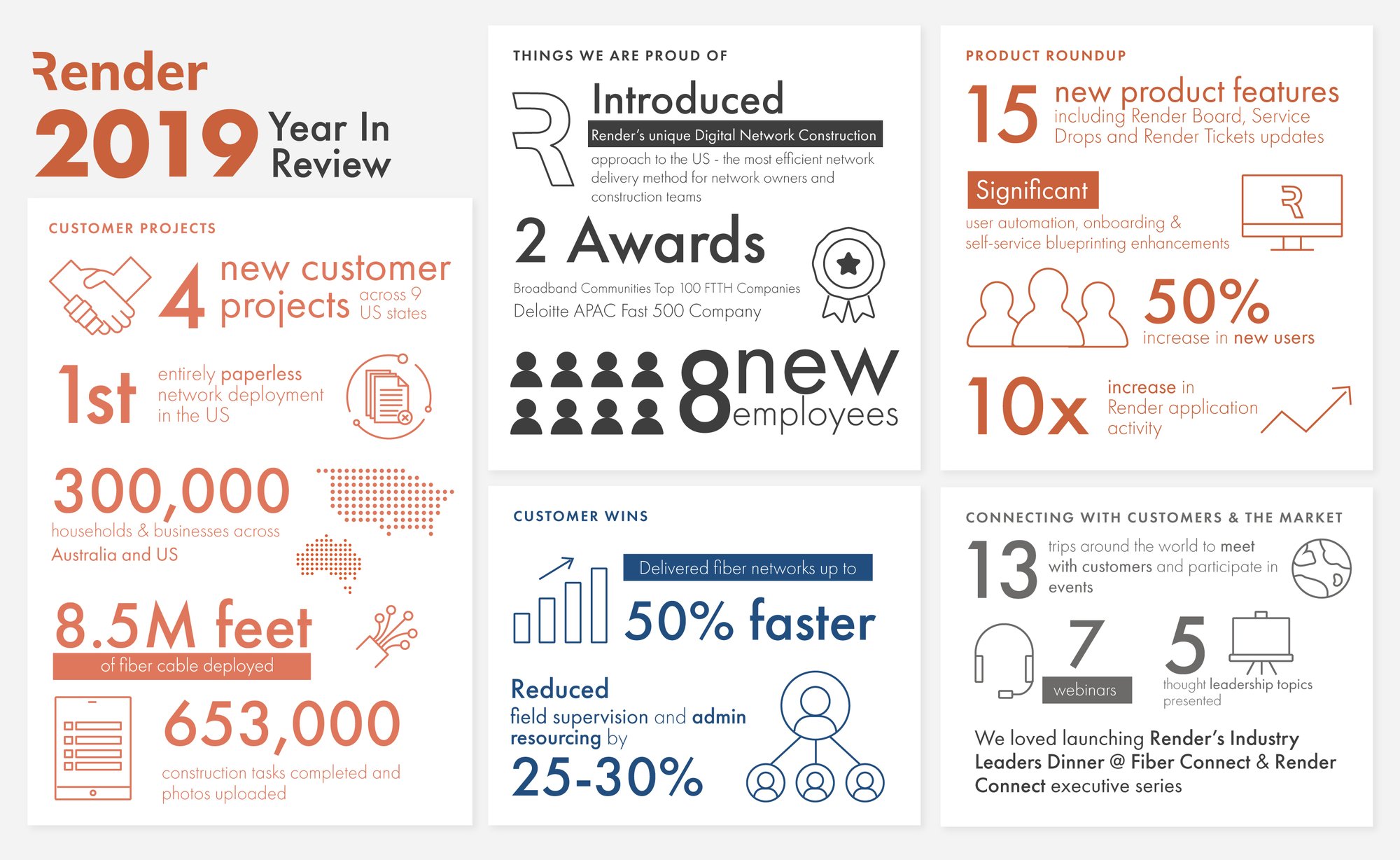 I am incredibly proud of relationships formed and milestones achieved by our exceptional and dedicated team, however it's our customers' successes that amount to the greatest wins of 2019:
First entirely paperless deployments in both Australia and the USA
Over 40% reduction in fiber construction durations
75% efficiency gains in administrative and field supervision overheads
All culminating in an ability to build larger and more impactful networks than many initially thought possible
As we move towards peak fiber deployment globally in 2020, and both governments' and the private sector continue to invest billions in fiber infrastructure - I am excited for Render to be part of the solution and an industry united around connecting under-connected communities to the benefits of high-speed, reliable broadband.
Finally, to help answer those questions around what Render does and what we're setting out to achieve in 2020, I invite you to take a look at our 2-minute overview:
Thank you for your continued support throughout 2019, and all the best for a spectacular start to the roaring 20's!