The success of any fiber deployment project relies on an accurate and robust feasibility and economic model, particularly when applying for the billions in federal grants and loans currently on the table for rural broadband connectivity.
When projecting costs associated with fiber deployment, working with the right partners to determine a model that accurately forecasts where costs occur, the downstream and upstream impact of these costs, and most importantly how best to drive efficiencies is critical.
Render's digital approach to network deployment enables utility owners, engineers, ISPs and construction teams to achieve significant time to revenue and cost savings. Here we provide an overview of how Render's Digital Network Construction calculator [available here] can help forecast the costs and potential efficiencies of your network deployment.

Navigating network design and build costs
Informed by our leadership team's decades of experience as both utility owner and construction vendor, we have developed a simple yet reliable framework to determine the cost breakdown for your project.
Fiber deployment investment can be classified into the following core components:

Network Design

Project Management
Contractor and Materials
Project Contingency or Margin
A series of assumptions around the breakdown of the overall project cost is then be applied to each component:
Network Design = 6%
Project Management =14%
Labor & Materials contribution, when outsourced = ~70%
Contingency or Margin, if you are the network owner = ~10%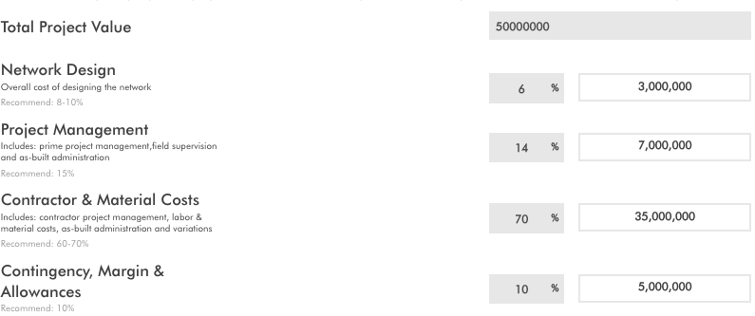 (Source: Render Digital Network Construction calculator - Project Budget table)

These numbers are industry-standard and consistent with our experience deploying fiber in a variety of rural and urban environments, however, costs do vary with technology and other factors so adjust these as necessary for your project.

How did we land on the savings?
Based on a project budget of $50 million, here is how potential savings over a traditional approach are calculated:
Network Design: By reducing the amount of design effort through automation and utilizing technology to convert the design into a Digital Construction Pack, savings of close to 20% are achievable. When you equate that to $3m in design cost, the efficiencies are significant.
Project Management: When considering project management investment of 14% or $7m, let's estimate field crews are tasked with completing 10 tasks a day. As demonstrated by Craighead Electric Cooperative in Arkansas, by simplifying the construction workflow, eliminating administration effort and introducing productivity gains of a digital approach, crews can increase their efficiency by 20% which may equate to 2 or 3 more tasks a day. This is achieved by removing the guesswork in the field and only sending construction tasks that are readable based on an optimal build sequence.
Contractor & Material Costs: On the labor side, when teams go faster and less field supervision is required cost efficiencies quickly stack-up. Should a network be projected to take 3 years to build using traditional methods, outside plant speed efficiencies of close to 50% are achievable with a digital approach. On the materials side, by increasing the transparency and visibility of where materials are used and by who, utilization rates improve and wastage reduces considerably.



(Source: Render Digital Network Construction calculator - Financial Impact table)
How is the project budget impacted?
When these approaches are utilized and savings are applied, projects benefits of X-X% are realised which all flow to the bottom line and result in dramatic improvements to contingency, margin or cost-to-serve.
Financial savings are one thing, however, what's most appealing to our community-focussed partners is how these efficiencies improve their business case for funding. They can enable more customers to be connected with a given level of investment, and cost-to-serve benefits that increase the probability of winning grants and investment needed to build larger and more impactful networks.