When approaching a construction Request for Proposal (RFP) as a telecommunications or utility network owner, knowing how to accurately define the project scope, delivery obligations and build priorities will mitigate risk and ensure you have the right partners to achieve the most successful delivery.
The purpose of this guide is to share a framework of considerations that can be applied in the project feasibility or network planning stages of a fiber network build. It covers important criteria to be considered before starting the construction RFP process, including: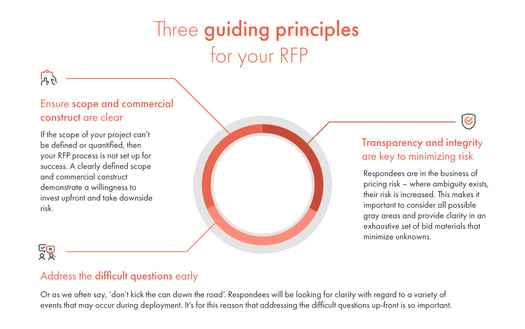 1. Guiding principles for your RFP
The quality of the RFP will generally guide the quality of response, both for the contractor and delivery partner.
Transparency and integrity are key to minimizing downside risk.
Correctly identifying and answering the difficult questions upfront will ensure you appoint the right contractors and the project has its best chance for a successful delivery.

2. Key considerations for a successful RFP
1. What is the best delivery model?
2. Design determines construction success
3. Clarity of project scope definition
4. Delivery obligations are realistic and achievable
5. Flexibility for changing priorities and optimal build

3. Efficiency drivers enabled by an end-to-end digital network deployment
As fiber network projects increase in size and complexity, adopting a digital approach to deployment enables you to construct faster than ever before, improve transparency, and increase operational efficiency, so that all partners can better meet the needs of communities.


Authors:

.

Dan Flemming Sam Pratt




Co-founder CEO


Complete the form below to access Render's Fiber RFP Guide: